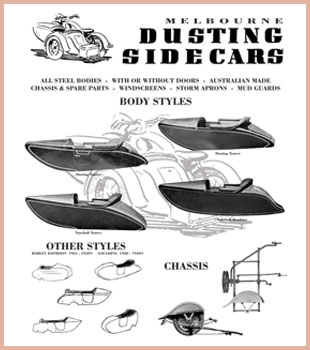 Choosing a sidecar requires time and care to ensure it will work in perfect harmony with your motorcycle. We would love to work with you to ensure you purchase the most suitable sidecar for your individual motorcycle.
We only provide sidecars that ensure safety and durability. The steel tubing in a Dusting chassis is of the highest quality obtainable, and is designed to withstand the heavy fatigue it receives. Carefully designed bodies mean comfort and ease for the passenger. The back swab is molded to form, and the armrests are placed just right. Long, easy riding springs smooth out all road bumps, and relative positions make conversation easy and pleasant. In addition to this we utilise scientifically placed rubber insulated couplings to prevent the transmission from any road shocks and ensure the lowest centre of gravity possible.
If your heart lies with your Indian, we can hand build replica steel Indian Sidecar bodies. Once construction is complete, we paint the sidecar to suit the specific colours and style of your beauty. Should you be more of a Harley aficionado, we can create an individual Harley Sidecar body built to your request or we can replicate a chosen Sidecar body.
We are also able to mold our Dusting Sidecar Chassis to fit to late model triumphs such as Bonnieville's.
Dusting Sidecars and Chassis are a good fit for all types of classic and modern motorcycles. We hand build the Chassis and the bodies of all our sidecars. We also provide lightweight Chassis and bodies to fit and suit all manner of scooters.
In addition to our great quality sidecars, we provide a range of spare parts and accessories.